Example
Sally Smith is the mother of Sam, an excited sixth grader who loves playing with Legos and building things. Sally hears about a robotics program called FIRST® Lego® League (FLL) from her second cousin Mary in West Virginia. Mary says that "her daughter was very shy before she joined a FLL team with her friend. Now she has learned to present topics with her team to judges and to enjoy being in the spotlight. She has really thrived in being part of a fun team of kids all working to build a robot out of Legos and accomplish this season's missions."
Sally did some checking and found out her son's school does not have an FIRST® Lego® League Team, but she did manage to find this website using Google. She read through the process and decided to register. She registered her name, email, location, and selected "SSRobots" as her alias name. She selected her interest in the First Lego League program and said she would be willing to "help coach" if needed.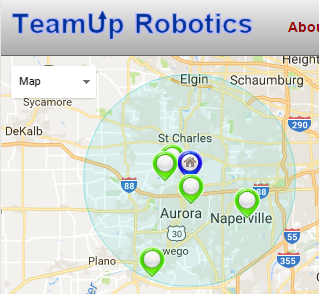 The system then brought up a map of her location and showed 5 pins on it (representing other people in her area interested in FLL. As she clicked on the pins she could see some information about those people; their alias, child's gender/grade, and a comment they had written. Some of the people sounded like they would be good matches with her son to form a team. She selected three of the people to correspond with, the website made it easy for her to compose an email to them (although she never saw their email addresses, only their alias names). She hit send and crossed her fingers.
The next day she had a reply from two of the people and another one from an alias "RoboDad". She clicked on a link in the emails to reply to each of the people and proposed they meet Thursday night at a centrally located coffee shop in her town. The group got together and decided that RoboDad would be willing to coach if Sally would be a Co-Coach and they could meet at his son's school on Tuesdays. Sally went to the FLL website and registered their newly formed team and the rest is history. Over the next few weeks Sally got a few more emails from other parents via Team Up and they got an additional two team members, before she deactivated her Team Up account.
---